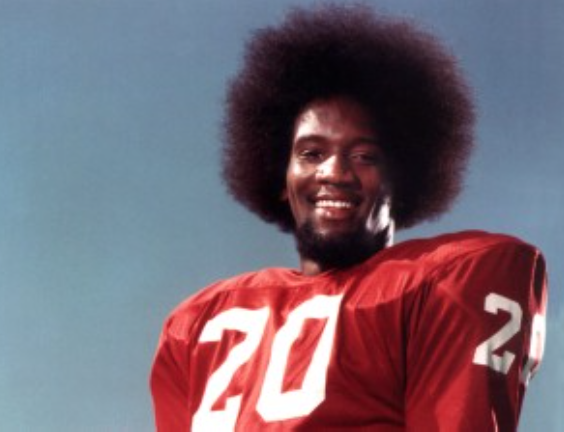 2T.)
Baker Mayfield 6'1 215 QB Oklahoma
- Do I think the Steelers will draft Mayfield? Probaby Not. Did I just watch the Heisman Trophy presentation? Yes. The award doesn't have near the prestige it once did, but I still enjoy it...Billy Sims not withstanding. STFU! STFU!
2.)
Bryce Love 5'10 191 RB Stanford
- Deserved to win the Heisman. I REALLY like this kid. Freaking warrior. I hope Leveon Bell is back with the Steelers, but if Colbert feels he can best spend that money elsewhere I say bring in this high character winner to stabilize the backfield. Future pediatrician. "Dr. Love" I dig.
3T.)
Tremaine Edmunds 6'5 236 ILB Virginia Tech
- Tall 'sum bitch that can really run and chase. Perhaps with some tutelage, this kid can become a unique playmaker in the middle to help make up for the potential loss of Shazier. Get well soon, Ryan.
3.)
Terrell Edmunds 6'2 210 S Virginia Tech
- May as well keep it in the family. Tough 'sum bitch that battled through a shoulder injury all season before electing to have surgery last month. A Mike Mitchell replacement must be found this offseason.
5T.)
Kameron Kelly 6'2 195 CB San Diego S
t- More size for the secondary. Having lived at Pacific Beach, I have a soft spot for the Aztecs. Time to put Artie on notice.
5.)
Dalton Schultz 6'5 240 TE Stanford-
The Cardinal have sent their share of TE's to the NFL of late. I still think the Steelers missed the boat not drafting a tight end in a loaded class this past year, but I'm guessing they'll try to right a wrong this offseason.
7T)
Davin Bellamy 6'4 245 OLB Georgia
- NFL draft scout (Guessing that's Rob Rang) has Bellamy ranked as a 7th rounder??? Weak sauce, dudes. This kid is a solid ball player who can apply pressure to qbs on the rare occasion Kirby blitzes. I'm not a fan of Bud Dupree. I won't be at all shocked if another high pick is burned on a pass rusher.
7.)
Brett Toth 6'6 300 OT Army
- Yes, in addition to the Heisman Trophy award, I still enjoy watching the Army/Navy game. Anyway, Toth is a member of the M.O.B, The Malicious Offensive Line Brotherhood. Wears Alejandro Villanueva's #78 and helps pave the way for the nation's top rushing attack.
Thanks as always for reading. The Heisman is fine, but I prefer the Lombardi. Hopefully, Shazier's injury in some way helps motivate and inspire the Steelers to win their 7th Lombardi Trophy.